"Guinea must be reborn with roots in peace and a commitment to maintain peace."
Jointly launched by the transitional authorities and the United Nations, the promoting inclusiveness and social cohesion" project ended on 19 January 2023 in Conakry, with a series of recommendations, following a year of consultations and exchanges between different communities.
"Peace is a driving force. Without it, there is no development or fulfillment in life. We must work to maintain peace."
These plea-like words are from a young leader of Dabola. 25-year-old Mamadou Djan Cisse explains how his native city Dabola and his country Guinea, "need to move forward. And it's all possible through peacebuilding."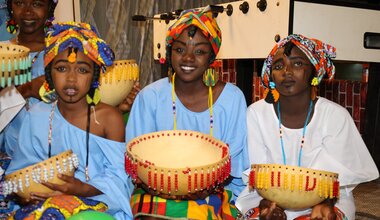 A peace caravan throughout Guinea
Mamadou Djan Cisse participated in exchange and dialogue sessions during this caravan on "Promotion of inclusiveness and social cohesion in Guinea" organized in his city of Dabola. The social cohesion project is part of the United Nations conflict prevention and peacebuilding strategy and supports countries in the subregion in their efforts to strengthen social cohesion.
This cultural caravan, aimed at raising awareness on Social Cohesion in Guinea, launched in November 2021 in Nzérékoré. Throughout 2022, it crossed conflict-prone areas, including Macenta, Siguiri, Kankan, Mamou, Labé, Koundara, Boffa, Kindia, and Conakry. Its objective was to promote reconciliation processes at the national and community levels while also strengthening and promoting human rights and social cohesion, through the involvement of local cultures.
Through exchange and dialogue forums, local communities mainly debated issues that threaten social cohesion, particularly land and state conflicts, relations between mining companies and populations, youth unemployment, and gender-based violence. Aissata Onivogui, who is in her twenties and a member of the 'Young Women Leaders of Guinea (YWLG) organization, believes that the presence of the caravan in her town of Macenta was beneficial.  "We have raised awareness in schools, and even hairdressing salons. We talked to young people about tolerance and peaceful coexistence as the best way to keep the peace. Young people were asked to reject messages of hate and to try to avoid being manipulated by politicians," says Aissata.
Cultural diversity at the core of peace
In some localities, cultural and social practices that promote and strengthen social cohesion were highlighted, with, among other things, the upgrading of community "living together" pacts, grassroots sport, cultural and traditional events.
Koumanthio Zeinab Diallo, author and co-founder of the Fouta Djallon Museum and the famous Museum Theater in Labé, considers herself as a guardian of Guinean cultural heritage. As part of this project, she strove to interact with the population to raise awareness and demonstrate that through cultural heritage, the Guinean people can rebuild peace.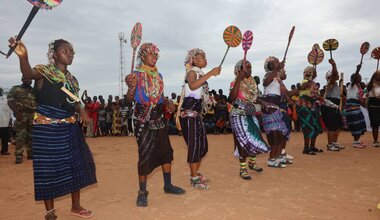 "We asked people what type of Guinea they wanted to build. For my part, I urge everyone to think about a Guinea that will rebuild itself, drawing from cultural elements, the peace pacts that have been signed and ties that must not be cut," says the writer.
"I am one of the actors of the caravan launched by the United Nations," says the Imam of the Labé Mosque, El Hadji Mamadou Diallo, right after Ms. Diallo. "For us, our role to find peacekeeping solutions is not difficult and is not a secret," says the religious leader. He explains that "God created us all as equal human beings, so that we could live together in cohesion. And we need to stay away from anything that can hurt that mutual understanding. »
The place of women in the pursuit and keeping of community harmony was also widely discussed. For Ms. Kaba Djessira, "the role of women in peacebuilding is paramount." "A woman who has a culture of peace benefits the whole community," she adds. In line with Ms. Djessira, author Zeinab Diallo states that "women play an extremely important role, simply through oral transmission. For example, already in the mother's womb, a child begins to hear their mother and listen to her. As such, as the family peacebuilder, the mother inherently conveys the different cultural virtues to her child."
"the project on social cohesion was carried out thanks to the will and commitment of all Guinean actors."
Recommendations for the future
At the closing ceremony, the Deputy Special Representative of the Secretary-General and Acting Head of the United Nations Office for West Africa and the Sahel (UNOWAS), Ms. Giovanie BIHA said that "the project on social cohesion was carried out thanks to the will and commitment of all Guinean actors." The Special Representative also stressed the importance of implementing the recommendations, which are the result of several months of reflection and discussion.
The people of the towns that were visited, among other things, advocated inclusiveness and transparency in political, social, and economic processes. They called for territorial equity, increased access to basic social services, equitable distribution of national wealth, and respect for human rights. The strengthening and amplification of cohesion-building initiatives by building on the messages launched by the activities during the implementation of the activities was also strongly encouraged.
These recommendations, which were presented at the closure of the project, will be relayed to the transitional authorities of the Republic of Guinea.
For his part, the Secretary General of the Ministry of Foreign Affairs, Mr. Kabele SOUMAH welcomed the results of the project. "I reiterate the government's commitment to support them, in line with efforts to promote national reconciliation, including with the Guinean diaspora," he said.
Local communities hope to continue to create inclusive spaces for exchange and dialogue at the local level to discuss social cohesion concerns and identify local solutions. "We intend to identify target groups in each neighbourhood to strengthen conflict prevention. The idea is really to involve young people in the promotion of peace," said Djan Diallo, a young person from Labé who was chosen to be trained as a facilitator.
"We have tried to create a dialogue on everyday life that promotes consensus and can align the fragments of society," said Zeinab Diallo, before adding that "Guinea must be reborn with roots in peace and a commitment to maintain peace, it is this rare commodity that we seek and must protect."