"At WHO, we are working around-the-clock to support governments in leading the response to the COVID-19 pandemic" Dr Matshidiso Moeti, Who regional Director for Africa
Can you tell us how the COVID-19 pandemic is progressing in Western Africa?
The COVID-19 pandemic is continuing to increase in West Africa. Of the 47 countries in the WHO African Region (which is mainly sub-Saharan Africa and Algeria), West Africa accounts for over 37% of all reported cases (around 34,000 cases across 16 countries). The majority of these are in a few countries. Currently, Nigeria has almost 9000 cases, Ghana has around 7000, and Guinea and Senegal are at around 3000 reported cases each.
The majority of countries still have fewer than 1000 reported cases, and in half the countries, compared to where they were two weeks ago, the cases have increased by less than 50%. So, these are encouraging signs. Over the same period though, in a few countries, cases have more than doubled. So, we are monitoring this situation closely and continuing to work with partners, in support of governments, to contain the spread of this virus. We are also monitoring very closely, the situation in humanitarian settings in West Africa, as these are some of the most vulnerable communities in the world.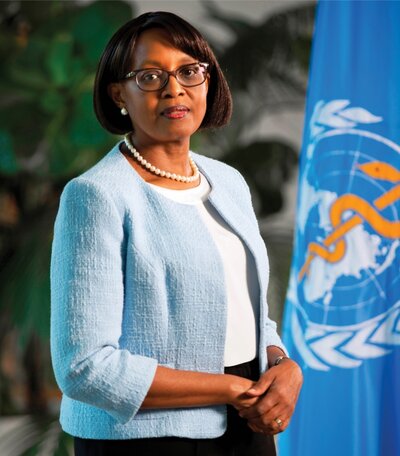 What lessons have been learnt from combatting previous outbreaks such as Ebola in West Africa?
In Ebola and other widespread and severe outbreaks (such as cholera, lassa fever, yellow fever, and measles) baseline capacities have been built in surveillance, laboratories, and other public health interventions.
We have learned that multisectoral approaches, engaging all-of-government and all-of-society, are essential. This has a long history, starting with our work on HIV/AIDS – how to divide up tasks based on each agency's comparative advantages. For COVID-19, within the UN, we are doing this, leveraging the expertise of agencies working on socio-economic considerations, and others focusing on specific population groups.
In the past, coordination in outbreak response was sometimes ad hoc, but we now have state coordination platforms, such as Presidential or ministerial taskforces and incident management systems, with standard operating procedures. Institutional capacities have been built in countries and national public health institutes, academia, grassroots organizations and other groups, including the private sector, have been mobilized to support the response.
As you may know, the Ebola epidemic in West Africa led to a reform WHO's work in emergencies to make the organization faster, more operational and better coordinated. This included developing monitoring and evaluation tools to strengthen implementation of the International Health Regulations (2005) (which is the international legal treaty on public health emergencies).
So, capacities have been built in an evidence-based way, using these tools. For instance, 46 of 47 countries in the WHO African Region have undergone an independent review of their emergency preparedness, known as joint external evaluation, and 30 have subsequently developed plans to address the biggest gaps. Mobilizing funding to implement these plans has been a challenge, but I hope the COVID-19 pandemic is highlighting that preparedness is a good investment.
Countries are starting to lift their lockdowns are you concerned by what may happen?
Governments have had to make very difficult decisions in recent months: whether to move quickly in implementing social measures with limited information, or whether to wait for capacities to be scaled-up, with the risk that cases may spread. Particularly in Africa, where people rely on daily earnings to put food on the table for their families, governments are having to balance between saving lives and protecting livelihoods.
Countries have used the time during lockdowns to scale-up public health capacities and inform and educate communities on the preventive measures we should all be taking. They are also easing restrictions in line with WHO recommendations, to take a step-by-step, data-driven approach.
In West Africa overall, the doubling time of the epidemic has slowed from 4.1 days at 1 April, to 7.8 days at 10 May to 9.6 days at 24 May. Countries should continue monitoring the progression of the epidemic closely, at the district and provincial levels, so that social measures can be adjusted to contain any surge of cases in hotspot areas.
This is a whole-of-society effort, everyone has a role to play, and with solidarity, science and equity we can save lives and serve the most vulnerable.
How is WHO supporting countries to combat COVID-19 in Western Africa?
At WHO, we are working around-the-clock to support governments in leading the response to the COVID-19 pandemic. We have teams in every country, and in West Africa we have repurposed over 300 staff members, including from our emergency hub in Dakar and our inter-country support team in Libreville. We have also deployed international experts to support the response.
With WFP and other partners, we have provided and replenished essential supplies, such as laboratory test kits and personal protective equipment for health workers, as well as medical equipment.
Looking back to early February, in West Africa, only Senegal could diagnose COVID-19, now all countries can do so. Using interactive virtual sessions, we have trained more than 5000 front-line health workers in key areas of intervention, such as infection prevention and control and case management, and we are partnering with the West Africa College of Nurses and national professional associations to cascade these skills.
In addition, every Tuesday, I meet virtually with the Regional Directors of our sister UN agencies in West and Central Africa, to coordinate and take forward action to address the health consequences and mitigate the social and economic impacts of this pandemic. As I mentioned previously, this is a whole-of-society effort, everyone has a role to play, and with solidarity, science and equity we can save lives and serve the most vulnerable.
Interview conducted in mid-May 2020
This article is published in the UNOWAS Magazine N11 -> Download here